Due to the Covid-19 pandemic, one item has quickly become prominent around the world – the face mask. While healthcare workers are running short on high-tech protective face devices such as N95 respirators (equivalent to the European FFP2) most citizens are concealing their mouth and nose area with simple face masks made of cloth, or protecting their face by pulling a shawl or turtle neck pullover up to the bridge of their nose. All in all, this little item is changing our public appearance and behaviour. It certainly needs getting used to for many people, while for others it is already common practice to wear face masks on a daily basis, although for different reasons. But from now on this little piece of cloth in front of our face will become our ubiquitous daily companion. The mask itself has many faces—it is an extension of our face, protection, a signal of empathy, an accomplice, a silent speaker, a symbol, camouflage, an incognito masquerade, a loss of identity and bodily senses, a message, a force, a fashionable accessory—Exquisite Masking.
We, Regina Maria Möller, an artist and scholar based in Berlin, and Dinu Bodiciu, a designer and educator living in Singapore, have started brainstorming in a chatroom about transforming a face mask into another useable garment which encompasses and addresses a variety of readings, similar to the mask. The closest item we came about with is headgear, given that both serve a different function around the head. Due to the challenge of the geographical distance between us, we have simultaneously been experimenting with the format of "collaboration". After exchanging our ideas, we drafted sketch drawings, which we "handed-over" in the digital forum. These drawings were the basis from which we separately extended or intertwined our vision for the object that each of us was about to create. We did not know what the other side was about to construct until we shared our first models. This project development followed a similar journey to the drawing game called "exquisite corpse", which Surrealist artists frequently used to generate new and unexpected ideas.
When we are talking about communication over digital platforms, whose presence in our lives has intensified in these times of isolation, we should also talk about miscommunication. While developing this project and chatting from opposite parts of the globe, Berlin to Singapore, we discovered how the flat digital images that we have produced as the outcome of this collaboration become alienated. Furthermore, the intended purpose of the pieces we have designed disappears when a receptor perceives these objects as just a bi-dimensional representation.
The alienation of a liminal object—is it a mask or not a mask? is it a hat or not a hat? is it an artefact or not an artefact?—is opening up territory for endless possibilities of interpretation far removed from our original scope. This continuous unfolding of reality in each person's imagination under the influence of our existing knowledge of material culture might lead to a possible future where we will be all connected, whilst all lost in translation.
The results are two different interpretations of a mask which transforms into headgear—the Exquisite Masking.
© Regina Maria Möller / Dinu Bodiciu: "Exquisite Masking, #6 & #1", 2020
#2 © Dinu Bodiciu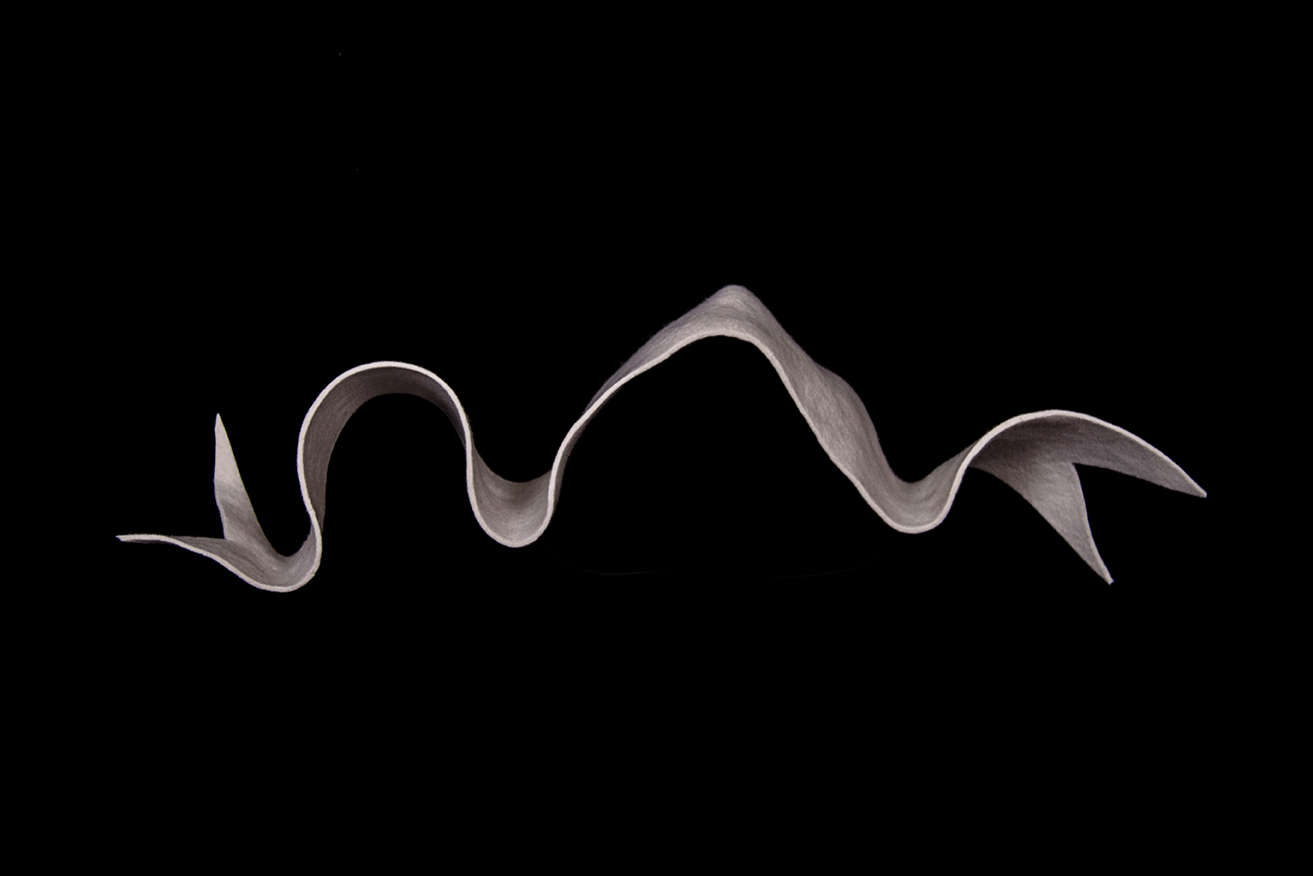 #3 © Dinu Bodiciu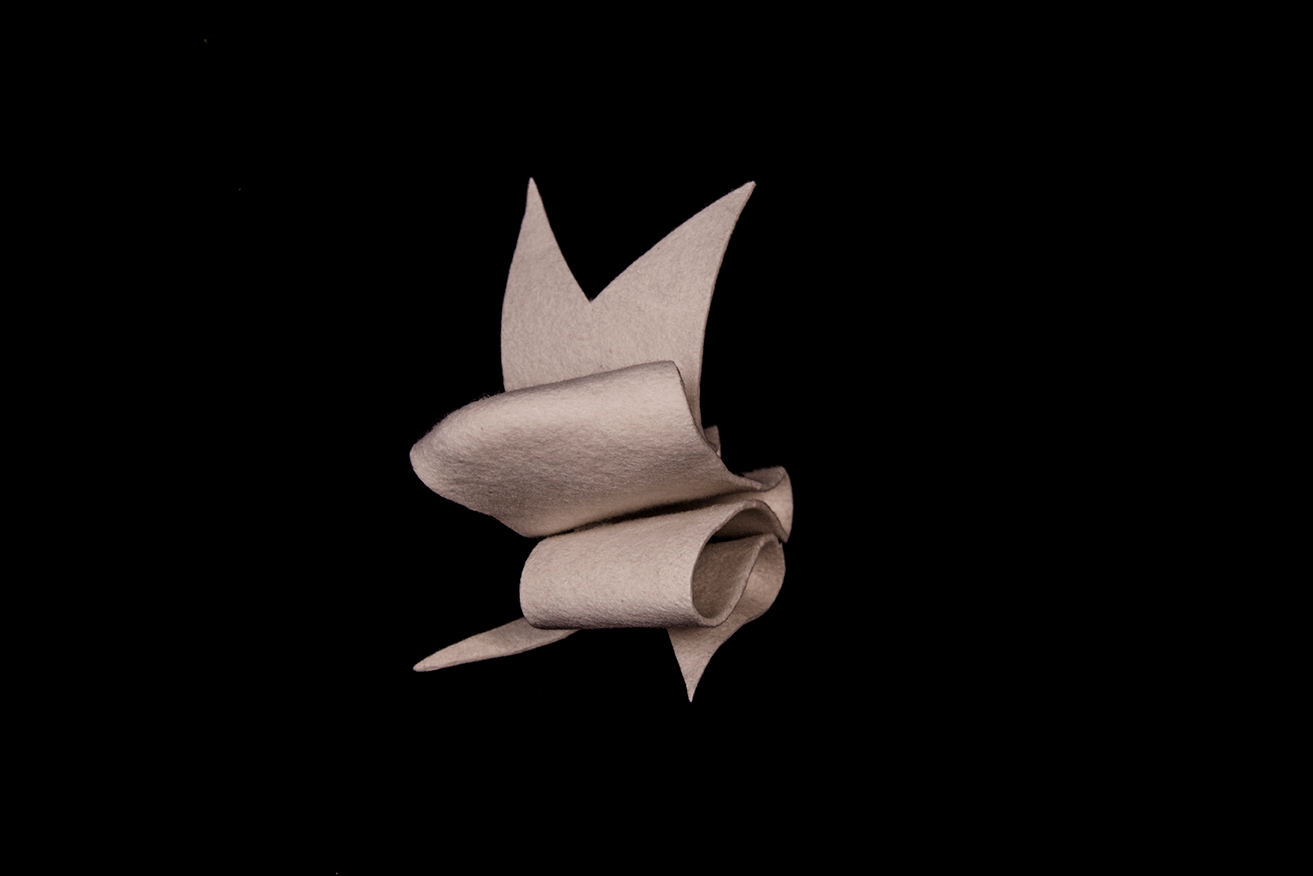 #4 © Dinu Bodiciu
#5 © Regina Maria Möller, VG Bild-Kunst Bonn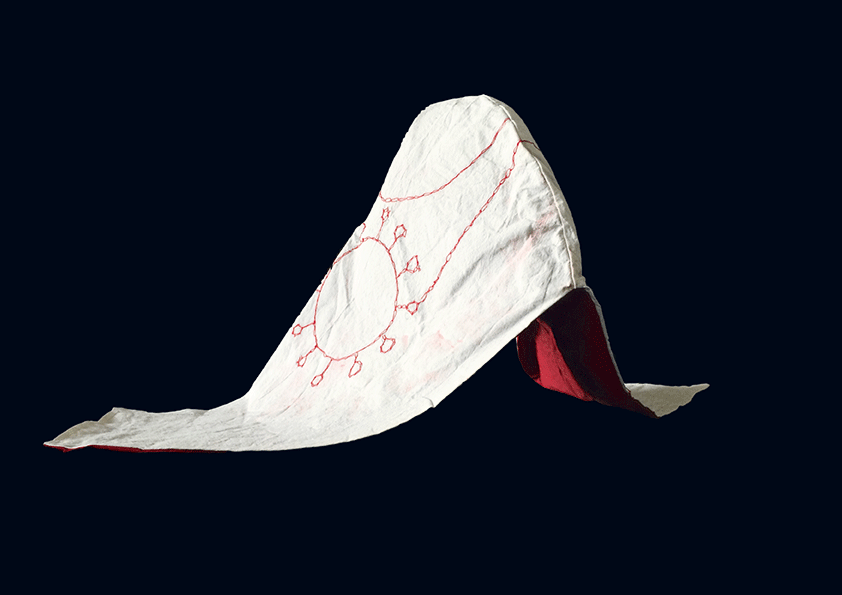 #6 © Regina Maria Möller, VG Bild-Kunst Bonn
#7 © Regina Maria Möller, VG Bild-Kunst Bonn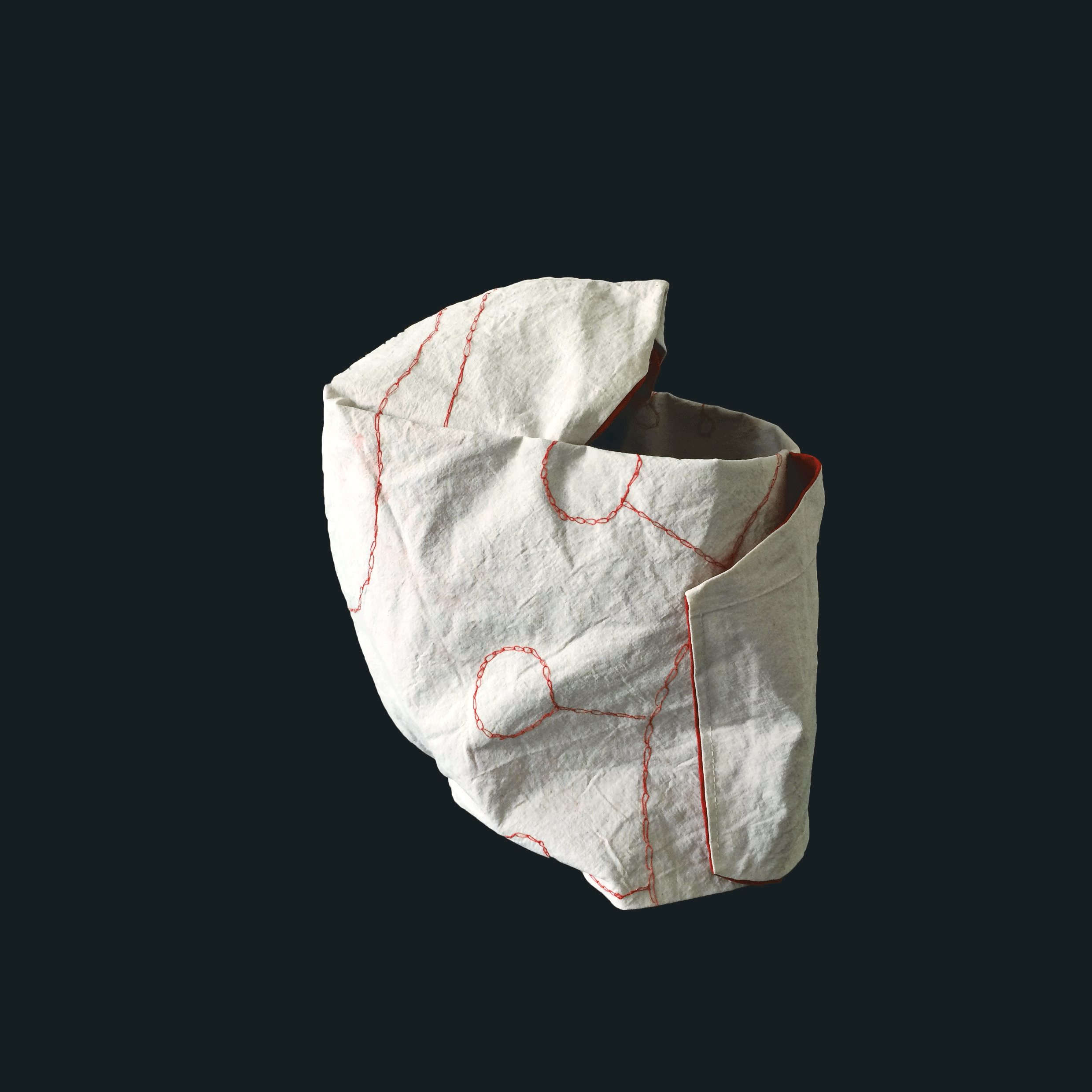 #8 © Regina Maria Möller, VG Bild-Kunst Bonn
Image credits: Regina Maria Möller / Dinu Bodiciu, "Exquisite Masking", #1–⁠#8, 2020
#2–⁠#5 created by Dinu Bodiciu, material: felt
#6–⁠#8 created by Regina Maria Möller, material: cotton embroidered and starched
About the artists:
Dinu Bodiciu is a Romanian-born designer, currently living and working in Singapore at the Lasalle College of the Arts, where he leads the BA in Fashion Design and Textiles. Some of his works have been famously worn by Lady Gaga or featured in the "Hunger Games" movie series, episodes 3 and 4. He designs garments and hat accessories that challenge the way we think about the relationship between the human body and clothing.
Regina Maria Möller is a German artist, founder of the magazine "regina" and the art label "embodiment." Her artistic projects are exhibited worldwide such as the 47th Venice Biennale, Manifesta 1, the 3rd Berlin Biennale of Contemporary Art, Secession, Vienna, NTU Center for Contemporary Art Singapore, among many others. Parallel to her art practice she has given talks at international platforms and taught in a number of academies and universities, including the Massachusetts Institute of Technology (MIT), Cambridge/Boston; the Norwegian University of Science and Technology (NTNU), Trondheim and Nanyang Technological University (NTU), Singapore.
---