"I packed my bag and in it I put… a mask, and then a few more, perhaps hand sanitizer…" this is how the popular car game might go in COVID-19 days. When I decided to take a trip to Seoul in mid-May, I packed three different types of face masks: three KF94s, two KF80s, and four surgical masks. A month before my trip, my family from Korea had sent me this assortment to equip me for my masked journey from Berlin Tegel Airport via Heathrow to the South Korean city of Incheon, my final destination. They could dispatch the masks via international shipping, as at that moment the Korean Customs Service was allowing Koreans to send up to eight masks to each family member living outside the country every month.
At the airports, I wore the mask with the highest level of protection, the KF94. (KF94 masks have 94% filtration of a 0.4 micrometer particle and perform similarly to N95 masks. KF80 masks filter about 80% of a 0.6 micrometer particle and offer an equal level of protection to N90 masks). Whilst in the air, I switched to the soft surgical masks. Waiting for my next plane at the airports, I longed to wear the soft surgical masks again, which were now tucked away in my bag, as I could feel the KF94 irritating the skin behind my ears. Dizziness was setting in as breathing became hard. When I finally reached Incheon and boarded the "quarantine bus" which transported me from Incheon Airport to a walk-through COVID-19 testing center near my house, I covered my nose and mouth with a KF80 mask, which allowed for easier breathing but still offered more protection than the surgical masks.
It was the conventional wisdom of wearing this protective gear, widely shared among Korean citizens, that led me to obtain my mask inventory. When it comes to the risk of viral infection, being in flight is much less risky than at an airport, as the air in the cabin is constantly filtered and circulated. The "quarantine bus" is sterilized and transports very few people (in fact, I was one of only three passengers in a bus with forty-seven seats), so the infection risk inside the bus is no higher than that of airports. Irrespective of the endorsement of scientific experts, the general public in Korea is now corroborating the vernacular knowledge of living with masks in their daily lives with scientific information online. My masked journey from Germany to Korea took me not only to a country where conventional wisdom about wearing protective gear is widely shared among its citizens, but also lead me to feel the pain of a mask—an experience that I share with the historical subjects of my research: Korean and Japanese diving women of the late nineteenth century. Unexpectedly, my research had coalesced with current affairs and inspired me to reflect on masks and pain in the context of Korean historical and contemporary experiences.
South Korean households are generally prepared to wear masks, but not for reasons of viral threat. American and European observers often describe South Koreans as being part of the mask-wearing culture of the "East."1 Yet they have only begun to wear these types of masks over the last few years, mainly in order to protect themselves from breathing in micro-dust particles, rather than viruses.2 When the COVID-19 pandemic hit the country in January 2020, the Korean public started wearing them as anti-virus masks for the first time. South Koreans have been struggling with the new normal and have started wearing KF94 masks on public transport, in markets, restaurants, and offices since a religious sect called the Shincheonji Church of Jesus became a hotbed of coronavirus in mid-February 2020.3 The South Korean government recommends that people with underlying medical conditions and those making hospital visits should wear KF80 masks, while KF94 masks should be reserved for those in contact with patients who are suspected of having the COVID-19 infection.4 Yet other Korean citizens also wear these types of masks and even prefer KF94s to KF80s because the latter is considered a low-level "yellow dust" mask used against the seasonal phenomenon of dust clouds containing industrial pollutants that come from the deserts of Mongolia and China in the spring.
It is not only the symbolic meaning of KF94/N95 masks that has changed over time, but also the physical conditions. Until last year, Koreans only wore masks outdoors for a limited time. But, to protect themselves against the highly infectious virus, Koreans are now even wearing them during working hours. As a result, more and more people have begun to complain about skin irritation, breathing discomfort, and headaches.
Figure 1. KF94 masks are marketed as the highest-level "yellow dust" masks in South Korea. Photo taken by the author.
As South Korea's government and media outlets do not consider these mask-induced symptoms a serious issue and instead focus exclusively on stabilizing the supply of masks, citizens are left to find creative solutions to relieve those symptoms by themselves, making various technical improvements at the individual level. A DIY kit to make a breathing valve has become a major success, regardless of its questionable efficacy. Although public health authorities warn against the use of an exhaling valve that might increase the risk of users exhaling viruses, many people prefer this option. A variety of ear strap extenders has already been produced using 3D printers since last February. Traditional medical treatments or pain relief are the immediate solutions to get wearers through the day.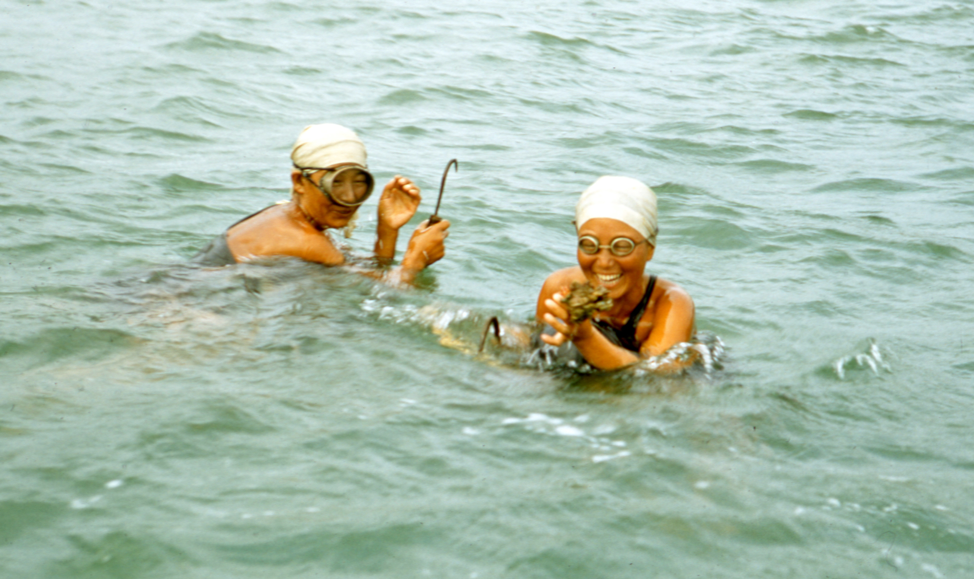 Figure 2. Jeju sea women wearing different types of diving masks in Busan, South Korea in 1952. Courtesy of the Bukyung Modern Historical Materials Research Institute.
A historical episode of mask wearers coping with the pain they induce might provide inspiration for how contemporary Koreans could adjust to face masks. The sea women (海女), called Haenyeo in Korean and Ama in Japanese, are free-diving women who harvest seafood and seaweeds underwater in a traditional way. From the 1880s, Japanese women divers began wearing diving goggles to protect their eyes and enable clearer vision underwater. Soon, they experienced the problems of face squeeze caused by the difference in pressure inside the mask and the ambient pressure of the ocean. To counteract this, in the 1890s, local artisans in the western region of Kyushu attached air-filled compressible rubber bags to their goggles. In other regions, divers devised a face mask with a mouth-straw to boost the air pressure within the goggles. Even before that, a nose-covered version was developed which increased air pressure by nose-breathing.5
Yet, technological modifications did not seem to be the solution that the sea women chose. Although today's museum exhibitions describe how the nose-covered diving mask soon became the standard type, due to its technological superiority over other designs, a variety of diving goggles co-existed over the decades. This was especially true for the Korean sea women who had migrated to different provinces of Japan as cheap fishery laborers and, as a result, wore various types of diving masks during the period of Japanese colonial rule of Korea (1919-1945). After liberation from Japan in August 1945, Korean divers returned to Jeju Island in South Korea. Some of them wore eye goggles with compressible rubber bags attached, while others used diving masks which covered their noses as well as their eyes. The nose-exposed type continued being used until the early 1960s, when rubber diving masks made in Japan had just begun being introduced to the island. Even young divers wore the simple type of two-eye goggles.6
Instead of technological solutions, it was eventually an agreement within the community that alleviated the divers' exposure to face squeeze. Regardless of which diving mask the women wore, most of them avoided the severe pain caused by pressure differences by limiting their diving depths as well as the time they spent underwater. In the early 1940s, Gitō Teruoka, the first scientist to study the physiology of the Japanese women divers, thought that modesty was the reason why the women did not endanger their bodies, by balancing their working hours and monitoring their diving depth.7 He did not consider that their restraint was, firstly, a way to manage the physiological risks and, secondly, a result of social circumstances, as the local fishery communities strictly restricted operating places and working hours. Even though the regulations were in place for economic reasons rather than concerns for the diving women's health, those rules allowed the divers to work sustainably in terms of managing both their pain and resources.8
Current attention to the (temporary) success of South Korea's fight against COVID-19 highlights the culture of mask-wearing in Korea, but commentators have not yet considered why South Korea became a masked society. South Korea is an "overworked society" in which laborers annually work 300 more hours than the OECD average.9 Although two years ago the government cut maximum working hours, working unpaid overtime until 9 p.m. is still common. Korean companies also discourage remote work and even force workers to wear the painful masks in the office for long hours. As a 24/7 society, many workers at convenience stores, drug stores, cafés, restaurants, bars, theaters, and delivery centers are expected to work through day and night wearing masks. In this respect, the social agreement to change the long working hours culture is an effective way to relieve the mask-induced pains of Koreans. As the case of the diving women shows, social agreement at the community level is needed to help individuals adjust to the new ubiquity of mask-wearing in a sustainable way.
About the author: Jaehwan Hyun is a historian whose work explores transnational connections of scientists from Japan, South Korea, and the US as well as the role of materiality in shaping such exchanges. One of his projects investigates how the materiality of diving masks and other equipment shaped trans-pacific science and the lives of the sea women after World War II. Jaehwan believes that narrating the living experience of the diving-mask users will help us seek a way to live with masks "wisely" in the corona pandemic. Now he is making an effort to create a research collective in studying the making of "masked societies" in East Asia with other East Asian historians of science and scholars of science and technology studies (STS).
---
References:
1 Tessa Wong, "Coronavirus: Why Some Countries Wear Face Masks and Others Don't," BBC News, March 31, 2020.
2 For a criticism of the use of "yellow dust" masks, see Jae-Yeon Jang, Konggi p'anŭn sahoee pandaehanda [Against the Society Capitalizing Air Pollution] (Paju: Dongasia Books, 2019). As a previous colony of the Japanese empire, in South Korea cloth masks have also been used to guard against the flu in winter, but not as widely as in much of today's Japan.
3 The cult's full name is the Shincheonji Church of Jesus, the Temple of the Tabernacle of the Testimony. See "Coronavirus: South Korea Sect Identified as Hotbed," BBC News, February 20, 2020.
4 From late May, there has been a new demand for KF80 masks for the upcoming hot and humid summer. See the Korean Centers for Disease Control and Prevention, "The Use of Masks Recommendation Revision," March 3, 2020, accessed April 22, 2020.
5 Satoru Tanabe, Ama [*The Sea Women]* (Tokyo: Hosei University Press, 1993), 190–99.
6 According to local artisan Jong Soo Koh, interviewed by the author in Seogwipo, Jeju Island, South Korea, January 8, 2020.
7 Gitō Teruoka, Sangyō to ningen: Rōdō kagaku no kaiko to tenbō [Industry and Humanity: Retrospect and Prospect of Labor Science] (Tokyo: Risōsha, 1940).
8 For the Japanese government's early regulations of diving fisheries in relation to resource management, see Kjell David Ericson, Nature's Helper: Mikimoto Kōkichi and the Place of Cultivation in the Twentieth Century's Pearl Empires (PhD Dissertation of Princeton University, 2015).
9 "Remarks by President Moon Jae-in at a Meeting with Presidential Senior Secretaries to Discuss New Working Hour Regulations," The Office of the President, Republic of Korea, July 2, 2018.
---